Here's something different - the world's first air cooled VW motor mounted to a Subarugears 5 speed transmission.
This one is in a Manxter in California, some of you know the builder.....
The trans is a 5 speed turbo pull-style clutch transmission, fitted with a 4.86:1 final drive ring and pinion.
Subarugears supplied their billet aluminium adaptor plate, bolt kit, input shaft bearing and matched billet steel one piece flywheel.
This then bolts to the VW crank, fitting over the dowel pins and retained by the stock VW large crank bolt.
A 12mm I.D. input shaft bearing is supplied to fit to the VW crank bolt.
This setup runs a standard Subaru pull-type clutch and standard Subaru starter motor, ensuring standard replacement parts are easy and affordable to procure.
Some pix of the VW/5 speed car for your viewing pleasure :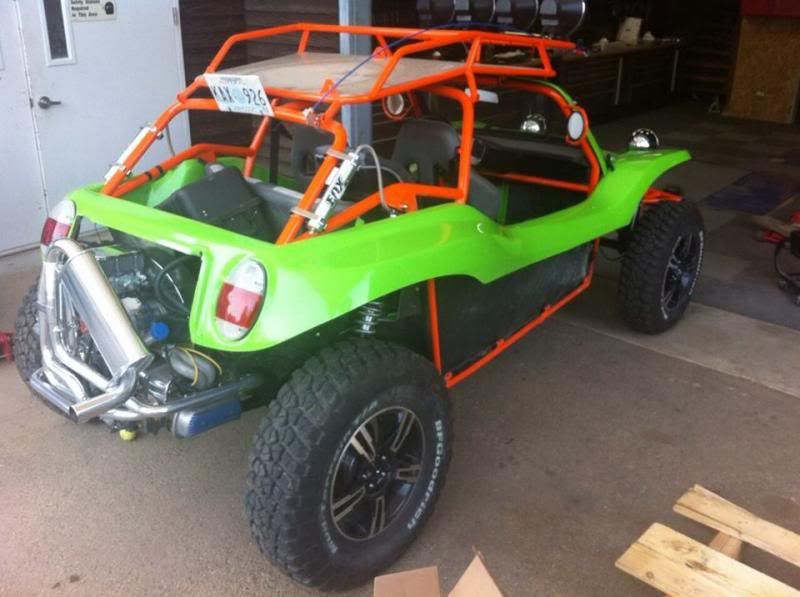 After this gets a thrashing over the next week we'll see how well it fits into other vehicles. The adaptor plate is 27mm thick and the engine is raised between 32 and 55mm compared to a VW trans. It's certainly got some ground clearance!